Love And Sad Poems
The Joy of Love and Hurt of Sadness

Love and sad poems, some excellent writings from brilliant poets that expertly portray the heart felt emotions and feelings experienced by anyone who maybe in love, or going through the pain of sad and unhappy times.
Many of us would have experienced these two very differing emotions at some point in our lives within our relationships.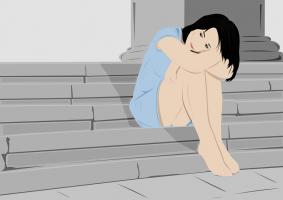 Love and sad poems are an excellent way of expressing the feelings of joy and heart felt pleasure that only the sensation of being in love can bring. It is a way of celebrating that one special person who seems to be constantly on our mind. And those butterfly feelings and heart racing excitement that comes with new but growing love and passion for another person.
These are truly wonderful feelings that only deep love can bring and there are many inspiring love and sad poems, some of them very old, that describe and celebrate these joyous pleasures in an emotional but thought provoking way.
A noisette on my garden path
An ever-swaying shadow throws;
But if I pluck it strolling by,
I pluck the shadow with the rose.
Just near enough my heart you stood
To shadow it,but was it fair
In him, who plucked and bore you off,
To leave your shadow lingering there?
Robert Cameron Rogers
Love should be welcomed and encouraged at every opportunity and allowed to blossom and grow into something truly great and personnel. It is these passionate messages that are radiated and inspired through classic love and sad poems.
However, as most of us are all too aware, personnel loving relationships are not always straightforward and plain sailing. Love can often come with twists and turns and many obstacles to overcome. Sadly, there are times when a loving relationship between two people just does not seemed destined to last the long term and love can then seem painful. It may be just one, or both partners within the relationship, but love can lead to extreme sad and hurtful times.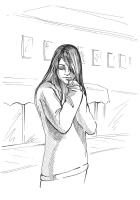 The breakup or ending of a love affair can be an emotional and traumatic experience causing much heartfelt pain, particularly if one person still loves the other. Sometimes the loss may be involuntary such as through death or unforeseen separation.
During these unsettling dark and sad times poetry can be a welcoming source of comfort and encouragement, inspiring us to be strong to carry on. It can be something very personnel and private. But that should not matter, for that is the beauty of poetry. It is there to guide and show that there is light after darkness.
Love and sad, joy and unhappiness - differing but powerful emotions that come with meeting and forming personnel and passionate relationships with other attractive and like minded people.
Soft on the sunset sky
Bright daylight closes,
Leaving, when light doth die,
Pale hues that mingling lie,--
Ashes of roses.
When love's warm sun is set,
Love's brightness closes;
Eyes with hot tears are wet,
In hearts there linger yet
Ashes of roses.
Elaine Goodale Eastman
So if you are happy and in love, you'll find a personnel poem that you can keep as your very own or share it's wonders with the one you love. A genuine celebration of your growing love for one another and your developing relationship. Love poems are also an excellent way of celebrating valentines, and engagement or wedding, or just simply a way of immersing yourself in the pleasure of love.
But on the other hand, if you're feeling sad through separation or loss, and the days seem dark and unbearable, you may just find that the poems on this site will offer you comfort, and help you to find the strength and courage to carry on.
She's somewhere in the sunlight strong,
Her tears are in the falling rain,
She calls me in the wind's soft song,
And with the flowers she comes again.
Yon bird is but her messenger,
The moon is but her silver car;
Yea! sun and moon are sent by her,
And every wistful waiting star.

Richard Le Gallienne
So truly immerse yourself into this collection of classic love and sad poems and really enjoy the striking emotions, feelings, passions or comfort that they may bring.
And don't forget, this collection will continue to grow, so please do come back again and again!
Do you have your very own original love and sad poems that you would like to share on this site? Your words may offer the inspiration or comfort that others may need. Why not submit them by



clicking here!

Love and Sad Poems - Relax and Enjoy!
Remember by Christina Rossetti
When We Two Parted by Lord Byron
In The Morning Of Life by Thomas Moore

She Was A Phantom Of Delight by William Wordsworth
cómo será (Spanish)
Una Noche (Spanish)