Inspirational Friendship Poems
Celebrate the Joy of Companionship
Can there be a better personnel and shared way of celebrating the joys and happiness of those that are close to us? Inspirational friendship poems are perfect for reminiscing on past memorable times.
I'm sure you would agree that having close sincere friends is a blessing that should be cherished and appreciated. With effort we can always make new acquaintances and friendships as we go through life. The opportunity to meet new people and form new friendships will often arise at work, social events, hobbies and pastimes.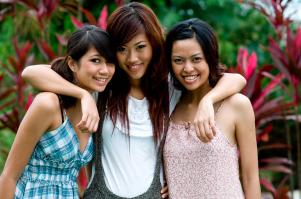 Some of us are fortunate to enjoy friendships that go way back to school or even childhood.

Real true friends will always be there for us, just as we should be there for them. It is a wonderful gift and a joy to have friends that we can always confide in, no matter what feelings or emotions we may be experiencing. Sentiments that are portrayed within inspirational friendship poems.

A deep loyal bond often grows between long close friends that can last a lifetime.

In today's social networking world made possible by the internet, staying in touch with many friends couldn't be easier. But if you only have that one and only sincere true friend, who you can turn to at any time for any reason, then that is a truly divine gift that should always be cherished and appreciated.

Be a friend. You don't need money; Just a disposition sunny; Just the wish to help another Get along some way or other; Just a kindly hand extended Out to one who's unbefriended; Just the will to give or lend, This will make you someone's friend.

Be a friend. You don't need glory. Friendship is a simple story. Pass by trifling errors blindly, Gaze on honest effort kindly, Cheer the youth who's bravely trying, Pity him who's sadly sighing; Just a little labor spend On the duties of a friend.

Be a friend. The pay is bigger (Though not written by a figure) Than is earned by people clever In what's merely self-endeavor. You'll have friends instead of neighbors For the profits of your labors; You'll be richer in the end Than a prince, if you're a friend.

Edgar A. Guest

This is the beauty of inspirational friendship poems. They help us to appreciate our friends with fondness and affection. Now I'm sure we both probably realise that building trusting friendships takes effort and commitment but the rewards are far more valuable.

Why art thou silent? Is thy love a plant Of such weak fibre that the treacherous air Of absence withers what was once so fair?

Is there no debt to pay, no boon to grant? Yet have my thoughts for thee been vigilant, Bound to thy service with unceasing care? The mind's least generous wish a mendicant For nought but what thy happiness could spare.

Speak! though this soft warm heart, once free to hold A thousand tender pleasures, thine and mine, Be left more desolate, more dreary cold Than a forsaken bird's-nest fill'd with snow 'Mid its own bush of leafless eglantine - Speak, that my torturing doubts their end may know.

William Wordsworth

Read by: Clarica. Music: The Four Seasons - Winter by Vivaldi. Performed by: US Air Force Band.

One of my saddest and biggest regrets is losing touch with an old friend who had moved abroad to start a new life. At first we would always keep in touch. Letters, phone calls (unfortunately this was before the age of the internet) but like so many other people probably experience, it slowly fizzled out. This can easily happen when people move on with their lives and is perfectly portrayed in many inspirational friendship poems. It's a shame really, because today it is so much easier to stay in touch.

Anyway, I've got another real true close friend. He's only small but his heart is big. Mind you he can often be quite demanding to the point that he can sometimes drive me mad! Come and goes whenever he pleases. And when he feels it's time to eat boy does he let me know!

But he always makes up for all that with pure love and affection! Often whenever I'm relaxing on my couch and he decides to curl up on my lap I can never turn down those bright green eyes and that soft gentle purr!

This particular friends name is Olly and yes he is a cat! And a very loving friendly one he is too! Friends don't always have to be human you know :-)



I'd like to be the sort of friend that you have been to me; I'd like to be the help that you've been always glad to be; I'd like to mean as much to you each minute of the day As you have meant, old friend of mine, to me along the way.

I'd like to do the big things and the splendid things for you, To brush the gray from out your skies and leave them only blue; I'd like to say the kindly things that I so oft have heard, And feel that I could rouse your soul the way that mine you've stirred.

I'd like to give you back the joy that you have given me, Yet that were wishing you a need I hope will never be; I'd like to make you feel as rich as I, who travel on Undaunted in the darkest hours with you to lean upon.

I'm wishing at this Christmas time that I could but repay A portion of the gladness that you've strewn along my way; And could I have one wish this year, this only would it be: I'd like to be the sort of friend that you have been to me.

Edgar A. Guest

Seriously though, many poets and authors express the importance of understanding true friendship within their inspirational friendship poems. We should strive to never take this special gift lightly or for granted as can often be the case when we move on with our lives and changing circumstances take us in different directions.

Sharing inspirational friendship poems with those that have helped us along the way is a great way of showing our real love and appreciation. A Friend's Greeting by Edgar A. Guest is an excellent poem to share with close friends.

We never know when we will need our friends. A few simple words of advice, a little guidance, a cheerful comforting telephone conversation or a shoulder to lean on. True friends - always there for each other.

Forbearance

Hast thou named all the birds without a gun?
Loved the wood-rose, and left it on its stalk?
At rich men's tables eaten bread and pulse?
Unarmed, faced danger with a heart of trust?
And loved so well a high behavior,
In man or maid, that thou from speech refrained,
Nobility more nobly to repay?
O, be my friend, and teach me to be thine!

Ralph Waldo Emerson

Read by: Fox in the Stars. Music: Ballade no. 4 op. 52 by Chopin.
Performed by Vadim Chaimovich.

Take comfort from friends but always strive to be the first to express heart felt gratitude, appreciation and thanks.

I find sharing special inspirational friendship poems with those close to me strengthens that bond between us. Friends will always have differing opinions and will never agree on everything in life, but with a little effort, that loyal loving friendship will grown stronger day by day. I just know we will always be there for each other.

So now sit back, relax and really enjoy this inspirational celebration to true friendship, and please do visit again as this collection of inspirational friendship poems will continue to grow.

We Have Been Friends Together by Caroline Norton
A perfect poem to celebrate close friendships.

Friendship by William Cowper
What virtue, or what mental grace but men unqualified and base will boast it their possession?

Do you have your very own inspirational friendship poems that you would like to share with other guests of this site? Please



click here to include your poems.