Inspirational Family Poems
Reflect Upon the Joys and Tribulations of Family Life
Inspirational family poems explore and celebrate the joys of family life, as well as portraying the difficulties and bitterness that sometimes occurs.
Family is where we come from whether it's for better or worse. It's our history, our roots. You may love and cherish it, or you may despise and want to forget it. Either way, we cannot change our family. It's our origins.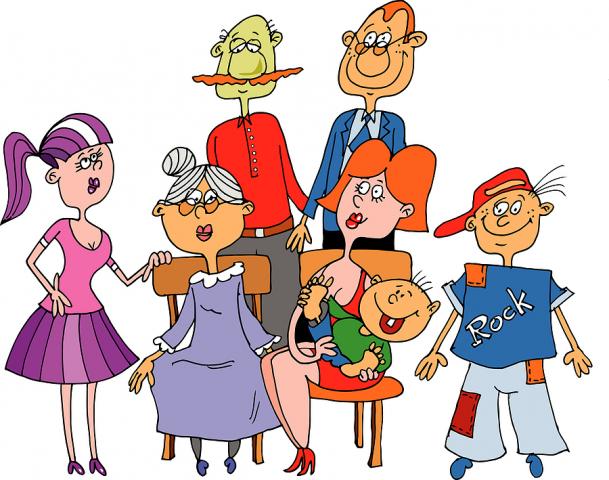 I know people who are fortunate to come from a very close knit and loving family. Some are large and others are small. But these families cherish time spent together. They will always make time for each other and are always there to talk to each other on the telephone whether it's morning, noon or night.
Grand parents, mums, dads, children, brothers and sisters all making sure they catch up with each other at some point every week.
Members of a loving family like this will always miss each other whenever they are apart, even if it's for a couple of weeks holiday. A real joyous and loving family.
Child and Mother
O mother-my-love, if you'll give me your hand,
And go where I ask you to wander,
I will lead you away to a beautiful land,
The Dreamland that's waiting out yonder.
We'll walk in a sweet posie-garden out there,
Where moonlight and starlight are streaming,
And the flowers and the birds are filling the air
With the fragrance and music of dreaming.
There'll be no little tired-out boy to undress,
No questions or cares to perplex you,
There'll be no little bruises or bumps to caress,
Nor patching of stockings to vex you;
For I'll rock you away on a silver-dew stream
And sing you asleep when you're weary,
And no one shall know of our beautiful dream
But you and your own little dearie.
And when I am tired I'll nestle my head
In the bosom that's soothed me so often,
And the wide-awake stars shall sing, in my stead,
A song which our dreaming shall soften.
So, Mother-my-Love, let me take your dear hand,
And away through the starlight we'll wander,
Away through the mist to the beautiful land,
The Dreamland that's waiting out yonder.
Eugene Field
Personally, I come from a large family that sadly has a history of falling out. Uncles and brothers not speaking to each other, siblings having nothing to do with their parents. And so on and on it goes.
There are probably many feuding families like mine. It seems people can fall out over the silliest and pettiest of things and the resentment can last a lifetime. It's a pity that so much bitterness is taken to the grave. A growing source of anger that, for one reason or another, cannot be released or past mistakes forgiven.
Life is short, we should really make the most of every moment and opportunity!
Families that probably do make the most of every given opportunity and time together are those that are separated for long periods. I often feel for the anxiety and uncertainty of families that have sons, fathers and daughters serving abroad in the armed forces during times of hostility. I'm sure these families cherish every given moment.
I really love cultures, particularly Mediterranean countries, where family life is so important. Enjoying family meals together, catching up with the day or week's events. Simple small talk and celebrations.
The getting together at big family occasions such as Christmas, Easter, weddings and christenings are fond special times. Everyone together in one happy unison.
That's the beauty of inspirational family poems, a celebration of happy times and family achievements.
Of course families are brought together during sad times and grievance. But that makes a family grow stronger and the love deeper.
Good times or sad times, family is one.
This collection of inspirational family poems reflects upon the importance of family life. A devotion to the special bond between mother and daughter and a portrayal of the trials and tribulations that builds and strengthens the bond within a family.
(This collection of inspirational family poems will grow as the site develops. Please check back for updates).
The Happy Household by Eugene Field
It's when the birds go piping and the daylight slowly breaks, that, clamoring for his dinner, our precious baby wakes...
The Housewife by Fay Inchfawn
See, I am cumbered, Lord, with serving, and with small vexatious things. Upstairs, and down, my feet must hasten, sure and fleet..